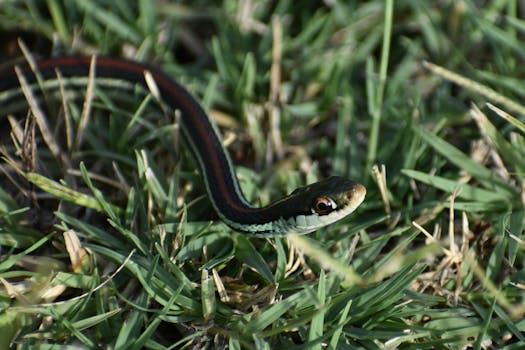 My story began on the fifth of May.
The day was chilly with a sky of gray.
In my tent, cozy, I woke to a scream.
Was it a person or was it a dream?
~
Morning dew thick, I stood there alone.
The sun newly risen, I reached for my phone.
No urgent messages or a soul in sight.
No reason at all to cause such a fright.
~
The bikes were still leaning on a nearby tree.
They're the only way home for my pal and me.
I then ran to the tent of my snoring friend,
who's along for the ride this spring weekend.
~
But the roar from within made it quite clear,
my old friend's just fine, no need to fear.
I then glanced down the path to a campsite nearby.
Something felt wrong but I didn't know why.
~
I tiptoed closer when another scream was heard.
It was the voice of a child, but that seemed absurd.
I then ran to the shrieking and what did I find?
Kids with a snake and they weren't being kind.
~
I said hey kids "what's with the noise?
And why do you think that snakes are toys?"
One little girl about seven or eight,
said she wanted a pet and snakes are great.
~
Her brother the screamer cried at the thought.
He's afraid of snakes or anything caught.
The other two children stood quiet and surprised,
their naughty ways they now realized.
~
I said all life should be treated as if it's your own.
A lesson you should have already known.
Soon the kid's parents arrived on the scene.
Their mother was angry, their father, big and mean.
~
He yelled loudly at his children and then at me.
Saying stay away from my kids or trouble you'll see.
I knew not to argue or make a big fuss.
But there was something I hoped to discuss.
~
I said "no problem, it's not what it seems."
I then told them my story of snakes and screams.
Their mom, disgusted, took the kids back to camp.
The dad growled asking "do you think I'm damp?"
~
Puzzled, I asked "what do you mean,
I've only told you what I've seen."
"I saw no snake, just my kids and you."
The dad replied, "What would you do?"
~
I know what I thought, but I couldn't say.
I felt it best to live through the day.
I could've run, but to where?
I could've fought him, but I didn't dare.
~
He then picked up a very big stick.
Then he charged at me like a lunatic.
I stood frozen awaiting my demise,
when the little snake caught the big man's eyes.
~
He stopped on a dime and screamed in fear.
His reptilian angst now was clear.
So I slowly bent over and picked up the snake.
The big man then started to tremble and shake.
~
"This is the culprit," I loudly said.
As I waved it gently near his clammy head.
Sobbing, he begged, "Please take it away.
I now believe everything you say."
~
I took a step back, surprised and relieved.
The turn of events was hardly believed.
I thanked that snake and said goodbye to the dad.
He just waved, whimpering and sad.
~
I then put the snake down and walked quietly away.
I was relieved we survived this fine spring day.
I went back to my tent then fell back to sleep,
never to tell who a snake made weep.

~*~
SCK022021